The Past Situation
Domestic cement consumption in the last 10 years has reached the highest growth in 2011, which was 17.7% with a volume of 48 million tons and at that time the national installed capacity 54 Million tons. From then on, existing cement producers are expanding with additional installed capacity. In addition, new investors also began to construct new factories simultaneously.
The Current Situation
Due to huge and simultaneous development of infrastructure in various regions of Indonesia, in the first half of 2018 domestic cement consumption increased 3.6% while it compared to the same period in 2017.
In this period, negative growth occurred only in Bali – Nusa Tenggara region with a decrease of -1.9%. While the largest growth occurred in Kalimantan with a percentage of 8.4%.
More detailed description can be seen in the following table:


In 2018 there was a slight change in the composition of domestic cement consumption, where this year Jawa experienced a slight decline, Sumatra rose, while other regions remain still the same.

As describe by graphs above, domestic cement consumption were concentrated in Jawa by 56% in 2018 which lower than previous year, while in Sumatera by 22% which higher than previous year. Meanwhile in other regions such as Kalimantan, Sulawesi, Bali – Nusa Tenggara, and Maluku – Papua are not different with last year.
Trends in 2014-2018
Domestic cement consumption in the first half of the last 5 years, in 2018 still shows growth. In 2018 there was an increase in volume of approximately 1 million tons compared to 2017, with a total volume 30,04 million tons.
A positive trend figures in 2018 can be seen in the following graph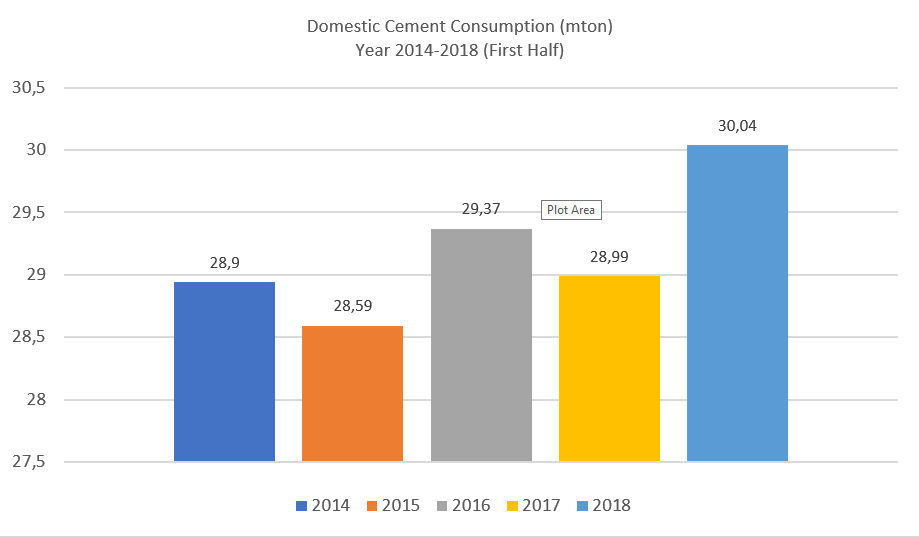 The graph below we can also see a monthly trends in the last 5 years :